The Season of Gingerbread!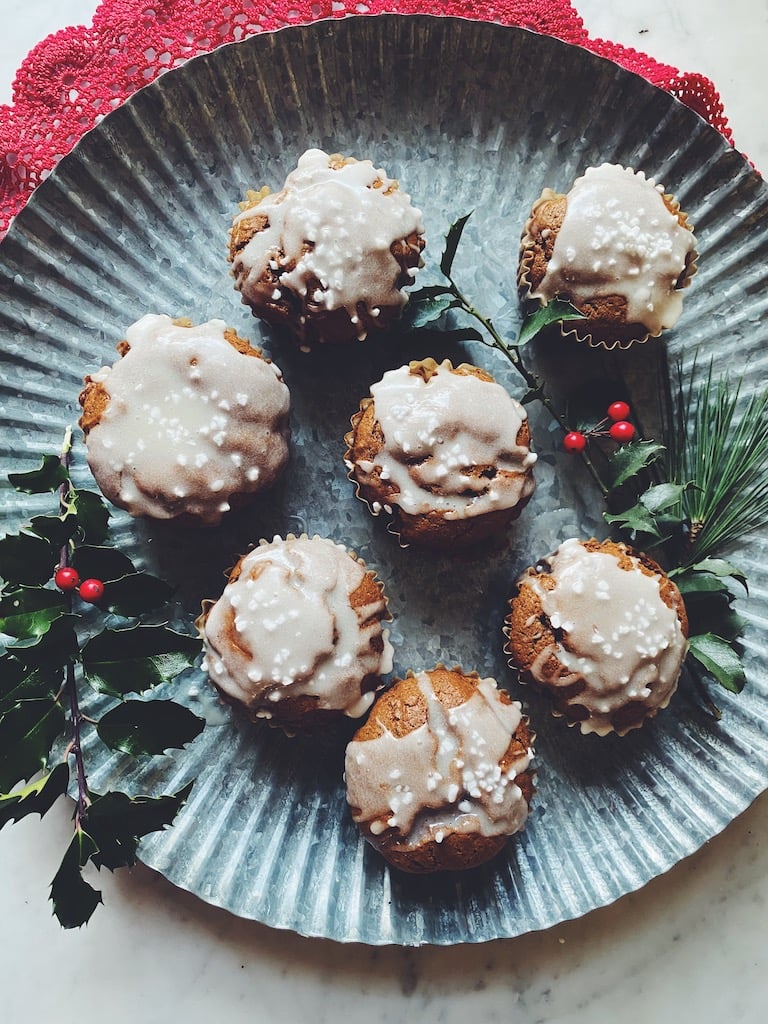 Happy December! To celebrate the holiday season, I plan to post some of my favorite recipes every week throughout the month. This morning I started reading some of our family's most favorite recipes for Christmas. I love seeing my mom's handwriting on the worn index cards. Every family has those recipes that are staples for holidays and birthdays and they bring back so many great memories. I must admit that I can't get enough gingerbread this time of year. The smell of cinnamon, nutmeg and molasses filling the house definitely brightens the darkness of the early sunsets. These gingerbread muffins with an egg nog glaze are the perfect Christmas morning treat or afternoon snack with a cup of tea. I am also including my recipe for gingerbread syrup to add to your morning coffee. Add it to a homemade latte and top with heaps of whipped cream and a sprinkle nutmeg! You can also package up this syrup in cute jars and give as holiday gifts.
These muffins can be made dairy free or gluten free!
Gingerbread Muffins with Egg Nog Glaze
1/2 cup (1 stick) unsalted butter or vegan butter
3/4 cup (234g) dark molasses*
2 and 2/3 cups (334g) all purpose flour (spoon & leveled) OR GLUTEN FREE FLOUR BLEND
1 and 1/2 teaspoons baking soda
½ teaspoon Kosher salt
1 and 1/2 teaspoons ground cinnamon
1 teaspoon ground ginger
¼ teaspoon cardamom
1/2 teaspoon ground cloves
1/2 cup (100g) packed light or dark brown sugar
1 large egg, at room temperature
1/2 cup (120g) plain yogurt, vegan yogurt or sour cream, at room temperature
1/2 cup (120ml) milk or non dairy milk, room temperature
Egg Nog Glaze
2 cups (240 g) confectioners' sugar, sifted
2 Tablespoons unsalted butter or vegan butter,
3 tablespoons egg nog or non dairy egg nog
Instructions
Preheat oven to 425°F Generously grease a muffin pan with butter or nonstick spray or line with muffin liners. Set aside.
Cut the butter into smaller pieces so it melts easier. In a large microwave-safe bowl, heat the butter and molasses together in the microwave on high for about 1 minute. Whisk until thoroughly mixed together. Set aside to slightly cool as you mix the dry ingredients together.
Whisk the flour, baking soda, salt, cinnamon, ginger, cardamom and cloves together.
Into the molasses/butter mixture, whisk the brown sugar, egg, yogurt, and milk until all wet ingredients are combined. Pour wet ingredients into dry ingredients and whisk until just combined. Do not over-mix. Batter will be thick and a little lumpy.
Divide batter among prepared muffin pan, filling all the way to the top.
Bake at 350 F. for 15-20 minutes until the tops are cracked and centers are set. Use a toothpiick. . Allow to cool for 5-10 minutes in pan before glazing and serving.
Make the glaze: Whisk the soften butter, confectioner's sugar and egg nog together using the mister. You want to mixture to be smooth and pourable. If it is too runny, add a small amount more of confectioner's sugar. Top with coarse sugar. Recipe was inspired by Sally's Baking Addiction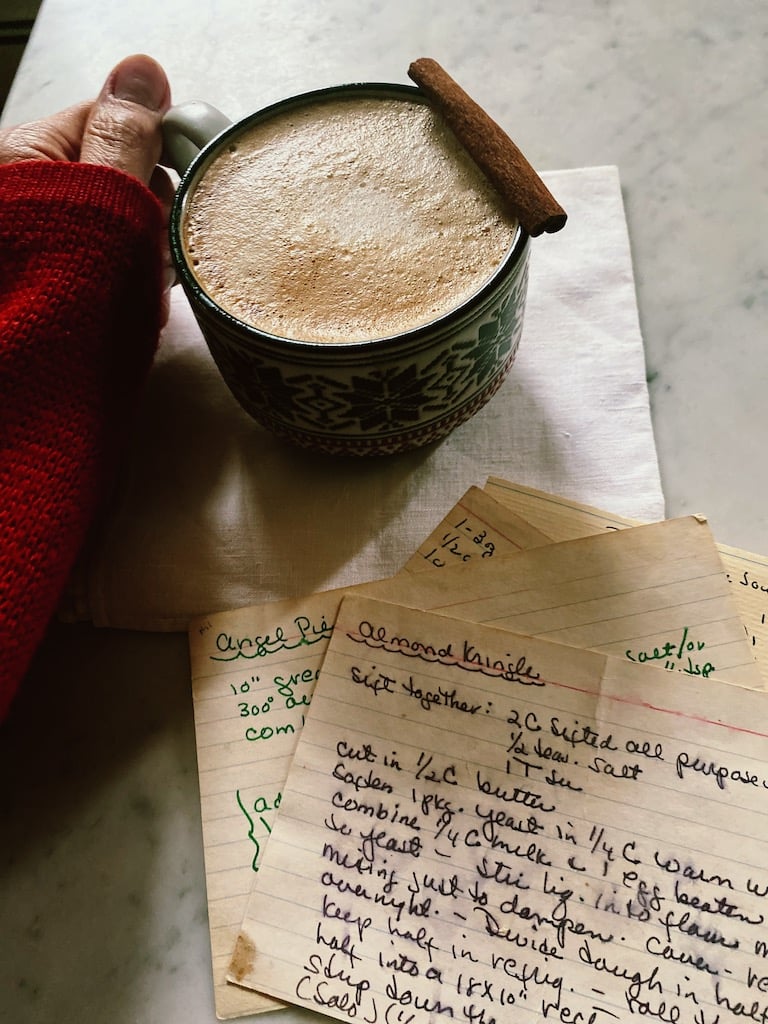 Gingerbread Syrup for Coffee
1 cup sugar
1 cup water
2 tablespoons molasses
1 inch fresh ginger, roughly chopped
2 teaspoons whole* allspice or a whole star anise
1 teaspoon whole cloves
1 whole nutmeg crushed
1 cinnamon stick
Instructions:
Add all the ingredients to a saucepan. Bring to a simmer over medium heat. Stir occasionally to make sure all the sugar dissolves.
Simmer 1-2 minutes, then turn off the heat.
Let cool slightly. Strain out the spices using a strainer. Transfer to an airtight container to keep in the fridge.