Mother's Day Brunch Ideas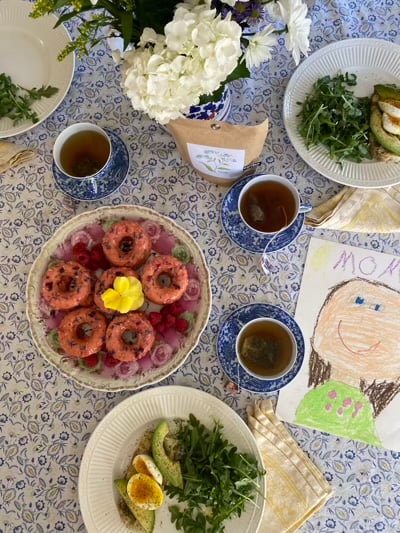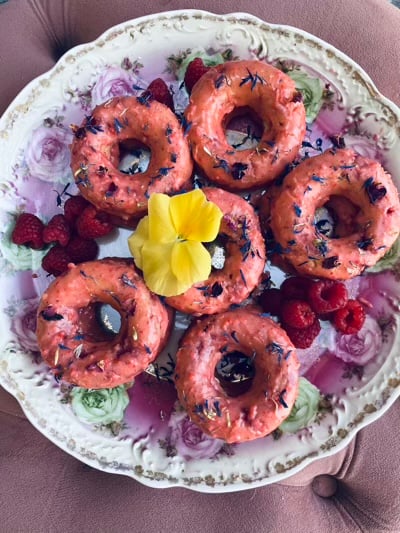 The days are longer, the flowers are starting to bloom and it's time to celebrate mothers and the important women in your life. These raspberry donuts are easy and irresistible! I have also added simple directions to make custom tea bags to add into your brunch or box up as a gift!
Raspberry Baked Donuts
If you are making these in the morning, be sure to leave your butter on the counter to soften overnight.
You will need a large pastry bag or zip lock bag to pipe the batter into the pans.
Optional for decoration: edible flowers or sprinkles.
INGREDIENTS
115 grams (a little over 8 tbs. ) unsalted butter, soft
100 (1/2 cup) grams granulated sugar
3 large eggs, room temp. LIGHTLY BEAT THEM IN A BOWL
250 grams (2 cups) all-purpose flour
1 tsp. Baking powder
1 tsp. Fine salt
1 tsp. Vanilla extract
80 grams (5 1/4 tbs.) sour cream
2 lemons, zested
60 ml. (1/4 cup) lemon juice
125 grams fresh raspberries (a little less than 1 pint)
LEMON GLAZE
Juice of 1 lemon
200 grams confectioner's sugar (1 cup), sifted
1/4 cup freeze dried raspberries, blitzed in a food processor to a fine powder
INSTRUCTIONS
DONUT BATTER
Preheat oven to 350. F. Grease the molds of two large donut pans (a total of 12)
In the bowl of a stand mixer with the beater attached, add the butter and sugar. Beat for 2 mins or until pale and fluffy.
Scrape down the sides of the bowl with a spatula. With the mixer running, pour the beaten egg in a slow and steady stream, stopping halfway to scrape the bowl. Beat until eggs are well mixed in and the mixture is light and airy. Fold in the vanilla extract, sour cream, lemon zest and lemon juice.
Fold in the flour, baking powder and salt until just combined. Fold through the raspberries (they will break up as you fold)
Spoon batter into a piping bag and snip about an 1" off the bottom to create a large opening. Pipe the batter into each of the donut molds. Do not overfill as they will rise. Use a wet finger to smooth the dough where the ends meet.
Bake for 10-12 minutes or until a toothpick inserted into the sponge comes out clean. Let cool for 10 mins before turning them out onto a wire rack.
LEMON GLAZE
Sift the confectioner's sugar into a large bowl. Add half the lemon juice and whisk. Add more lemon juice as needed to make a glaze that will coat the back of a spoon. If it's too dry, add some warm water. If it's too runny, add more sifted confectioner's sugar.
Dip the donuts into the glaze and set on a rack to dry. You can add more to the sides with a clean finger if needed. Decorate as you like.
STORE DONUTS IN AIRTIGHT CONTAINER FOR UP TO 3 DAYS OR STORE IN FREEZER, UNGLAZED.
SUPPLIES
coffee filters
loose tea (Trader Joe's has a lot of varieties)
small pictures (I used Canva to design mine)
twine
stapler
INSTRUCTIONS
Cut each coffee filter into a square
Add 1 tsp. of loose tea to the center of the square
Fold up like a brochure, and then in half again
Staple a small piece of twine to the end and glue on the small photos
If you don't have time to make your own tea bags, use premade ones and glue your photos onto the existing tag.